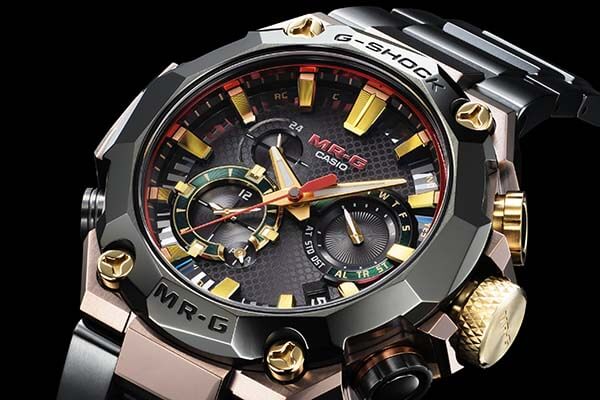 G-Shock announced the G-Shock MRG-B2000BS-3A Hana-Basara Edition. "Hana-Basara" refers to the Basara commander spirit, and "Basara" was a term of respect for samurai commanders who shattered conventions with a bold and lavish aesthetic.
The bezel is made of the Cobarion metal alloy, which is about four times harder than pure titanium, and the bezel is cut and polished by artisan Komatsu Kazuhito. The mirror-surface facet cuts give the bezel an angular look that is very distinct from other MR-G models. The case and band are made of DAT55G titanium alloy, which is three times harder than pure titanium. The bezel and band also have a traditional "kurogane-iro" hue that is the result of a newly developed dark green diamond-like carbon (DLC) finish, which is also applied to the case and back. The name refers to the deep shade of green that appears when iron is heated, with the color evoking the iron-clad helmets and armor of Basara samurai commanders. The case also has a brown AIP (arc ion plating) and an engraved side plate to commemorate the 25th anniversary of the MR-G series.
The dial features a "Kusari Katabira" (chain mail) woven pattern and a folding fan pattern on the outer dial. The dial's green, red, gold and black colors are inspired by the Hana-Basara armor.
Update: G-Shock U.K. has the MRG-B2000BS-3ADR (£6,729) listed as coming soon, which will also be released in Europe. The MRG-B2000BS-3A was announced for a June 2021 release in Asia. G-Shock U.S. is releasing the MRGB2000BS3A with a list price of $8,000.