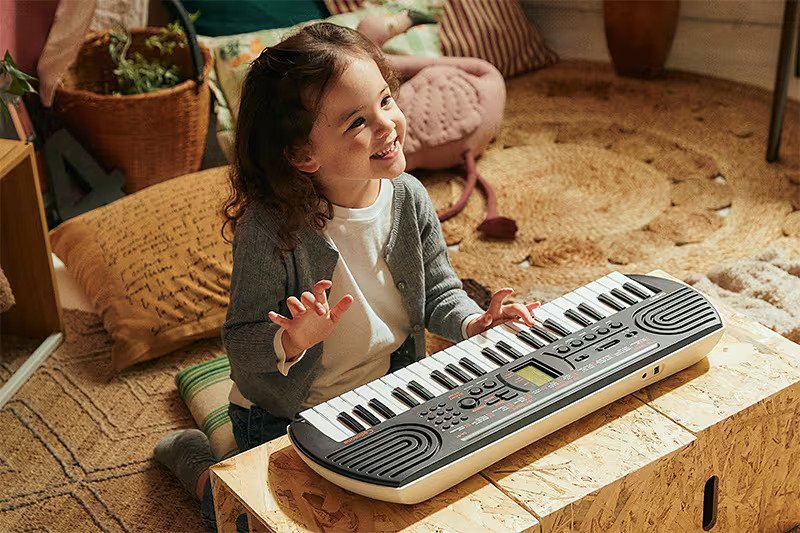 Casiotone – the little keyboard with a big sound
If you're in the market for your first musical instrument, Casio brings you its brand new mini keyboard – easy to play and perfect for little hands. Casiotone – Casio's latest addition to its range of mini keyboards brings you the SA Mini keyboard SA-80/81 boasting the classic Casio rich tone at perfect pitch. Who said the best things don't come in small packages?
Don't' worry what musical level you're at. The Casiotone is designed to help you expand your musical horizons giving you accuracy in pitch, excellent for choral and A Cappella practice. You can also raise or lower the pitch of notes in octaves to cover a wide range of registers and use Transpose to change the pitch of a song. Casio got creative and let you choose from 16 types of scale tuning, including Pure Major and Pure Minor tunings ideal for vocal harmony practice. So now you can experiment with different types of scales and harmonies, expanding your musical knowledge and skills.
This mini keyboard is available in white and lime green for the 32-key model and white and lemon yellow for the 44-key model, apart from black and white. These eye-catching colors add a fun and playful touch to your musical practice. The mini keys are perfect for beginners, and the keyboard is compact, making it easy to take anywhere.
Here's what you get with Casiotone:
10 Built-in Songs

Tempo Adjustment

Add reverberation effects to the sounds

Best for practicing playing at a constant tempo

Sustain continuous sound even after key release
Casiotone – make music anytime, anywhere! Don't miss our special introductory price of RM559, valid until 30th June, 2023. Visit https://www.mymarcostore.com/index.php?route=product/category&path=312
 to enjoy this one-time-only offer.