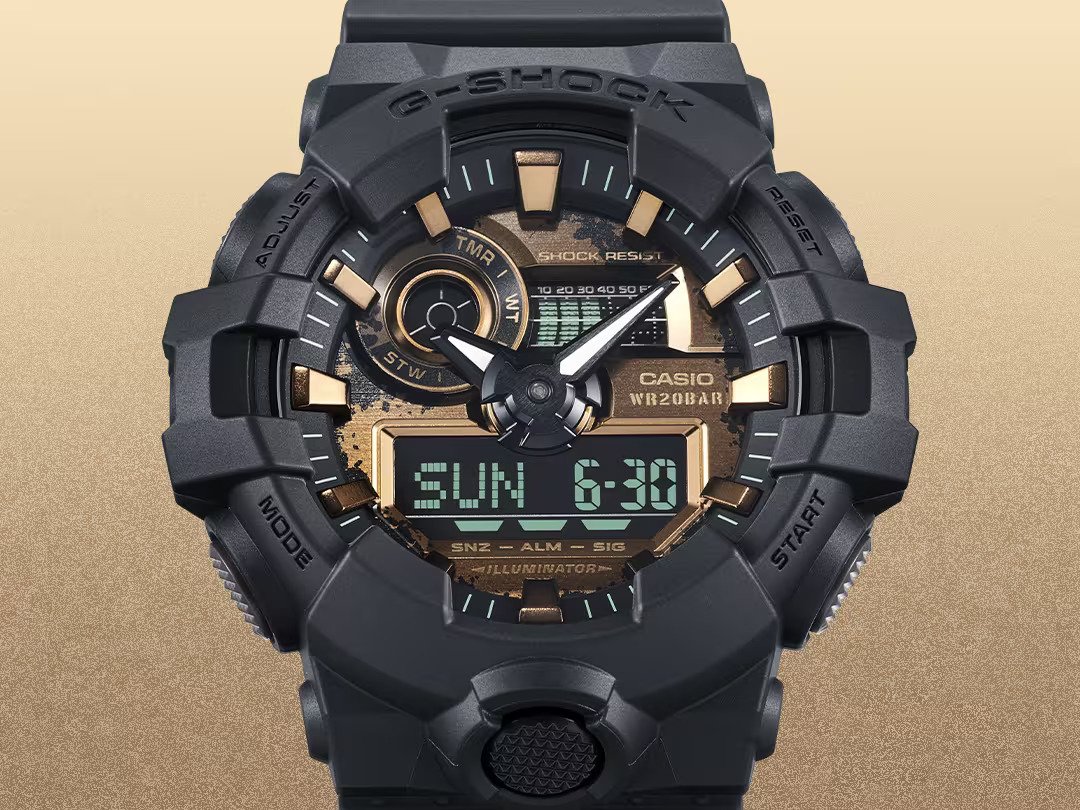 G-SHOCK Teal And Brown Series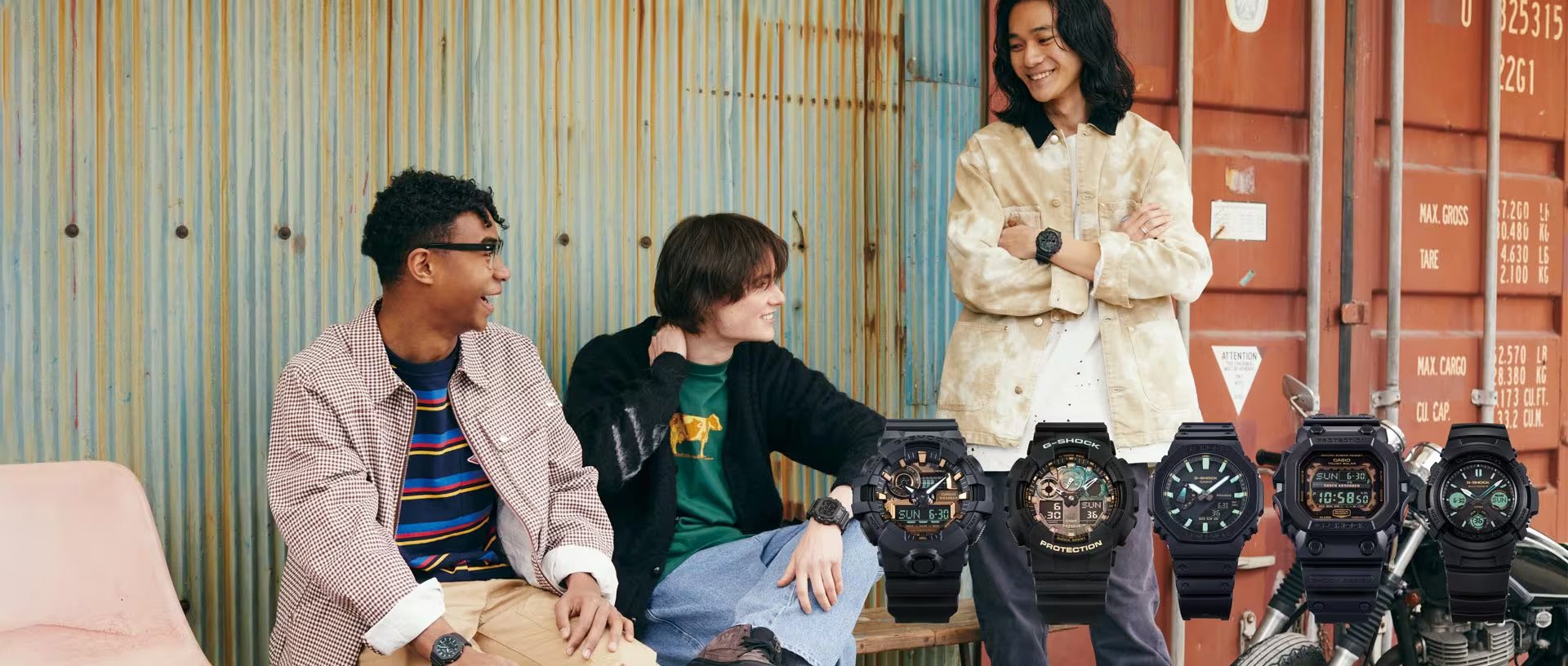 Teal And Brown Series
G-SHOCK strength that stands the test of time,
now in the colours of aged metal
A strength that remains, even with cuts and bruises. The G-SHOCK spirit of toughness, withstanding the harshest environments, is expressed by a design inspired by the look of aged metal. The vintage colours, which take on a more refined appearance with time, nicely complement the rugged design with its base colour of black, exuding a cool, neoclassical presence.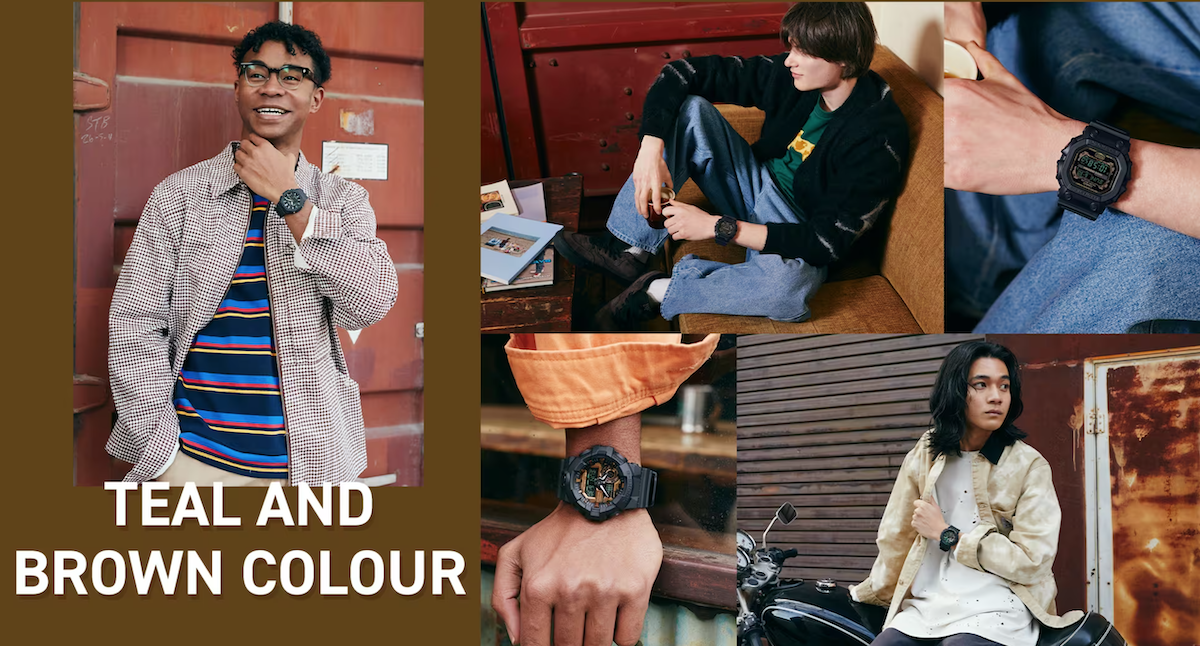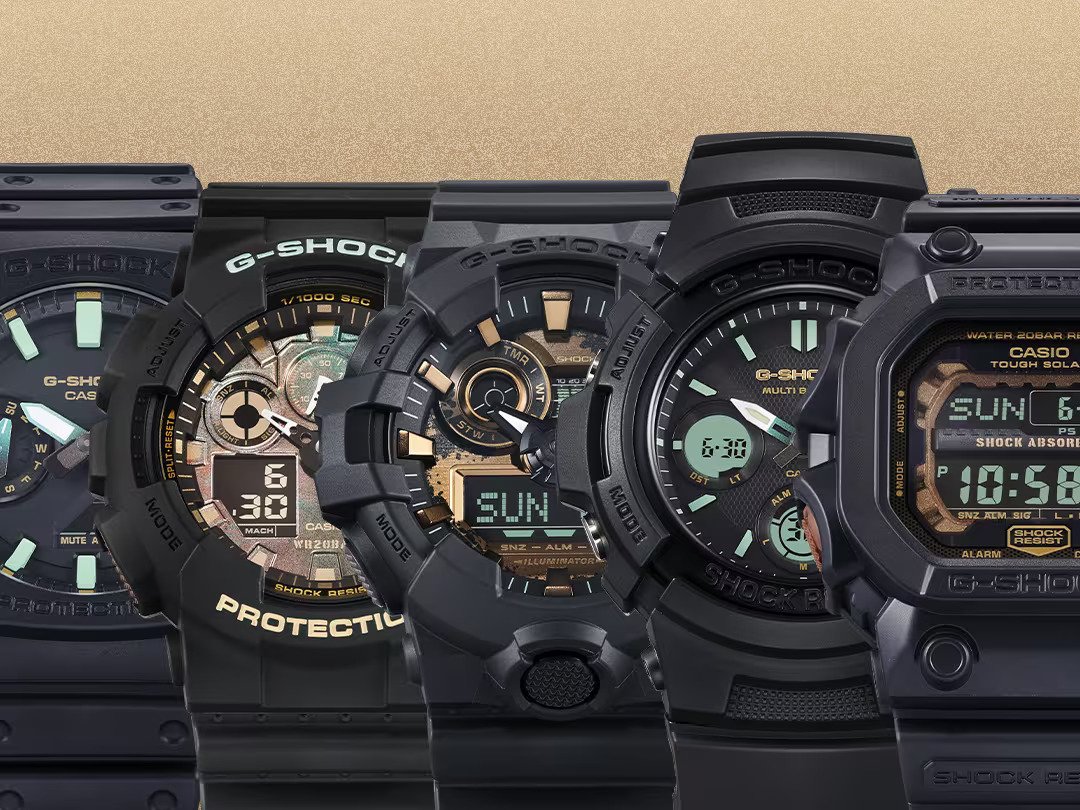 FEATURE1
Vintage colours on black create sharp contrast
Classic black, fitting for the G-SHOCK, is paired with colours inspired by the textural look of aged metal. The entire design of the watch expresses the spirit of a toughness that can withstand the most demanding environments, along with a timeless vintage flair.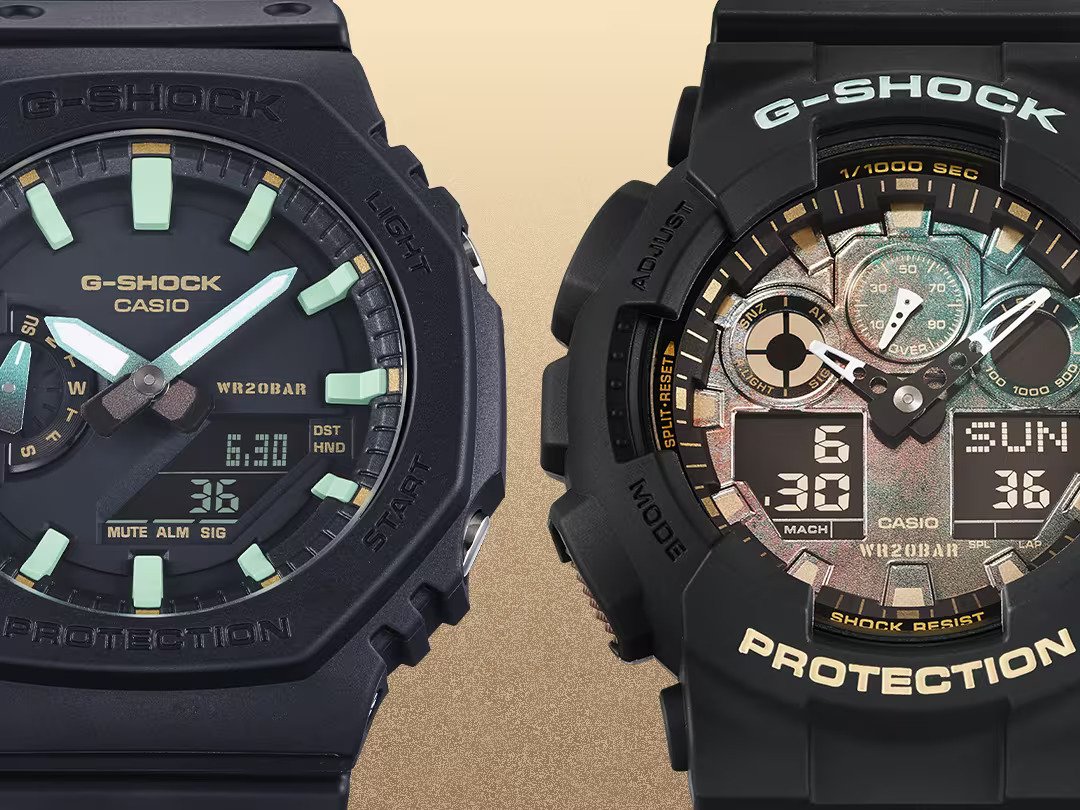 FEATURE2
Gradation printing
GA-2100RC, GA-100RC
The look and feel of metal as it changes with the passing years is rendered with gradation printing on the hands (GA-2100RC) and dial (GA-100RC).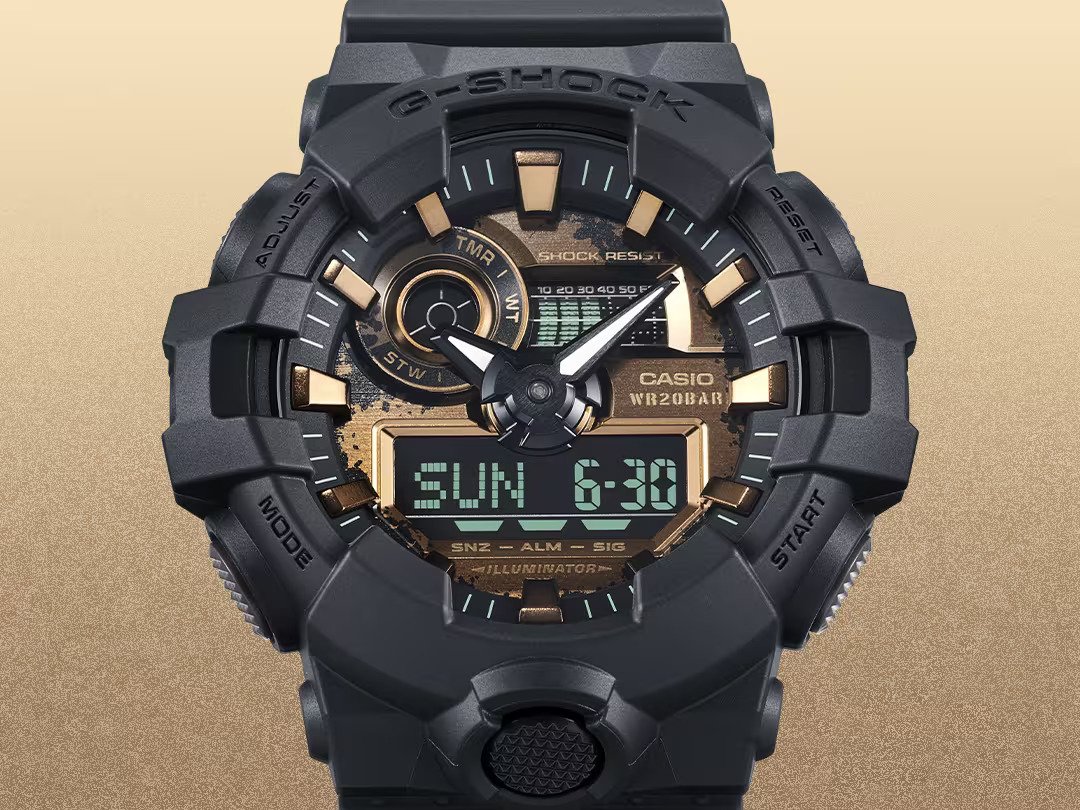 FEATURE3
Vapour deposition
GA-700RC
Vapour deposition is applied to the dial and partially removed with a laser peeling process to reproduce the look of aged metal.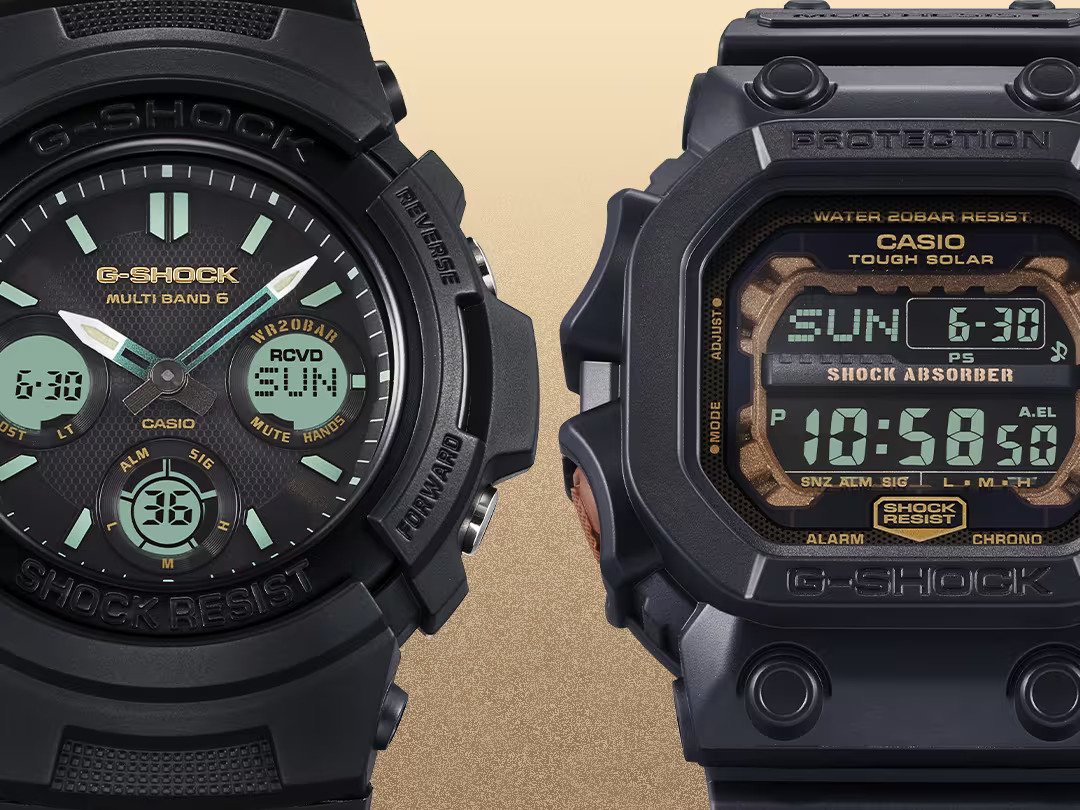 FEATURE4
Colour coating
AWG-M100RC, GX-56RC
An effective colour scheme of teal blue (AWG-M100RC) and brown (GX-56RC) accent the dial.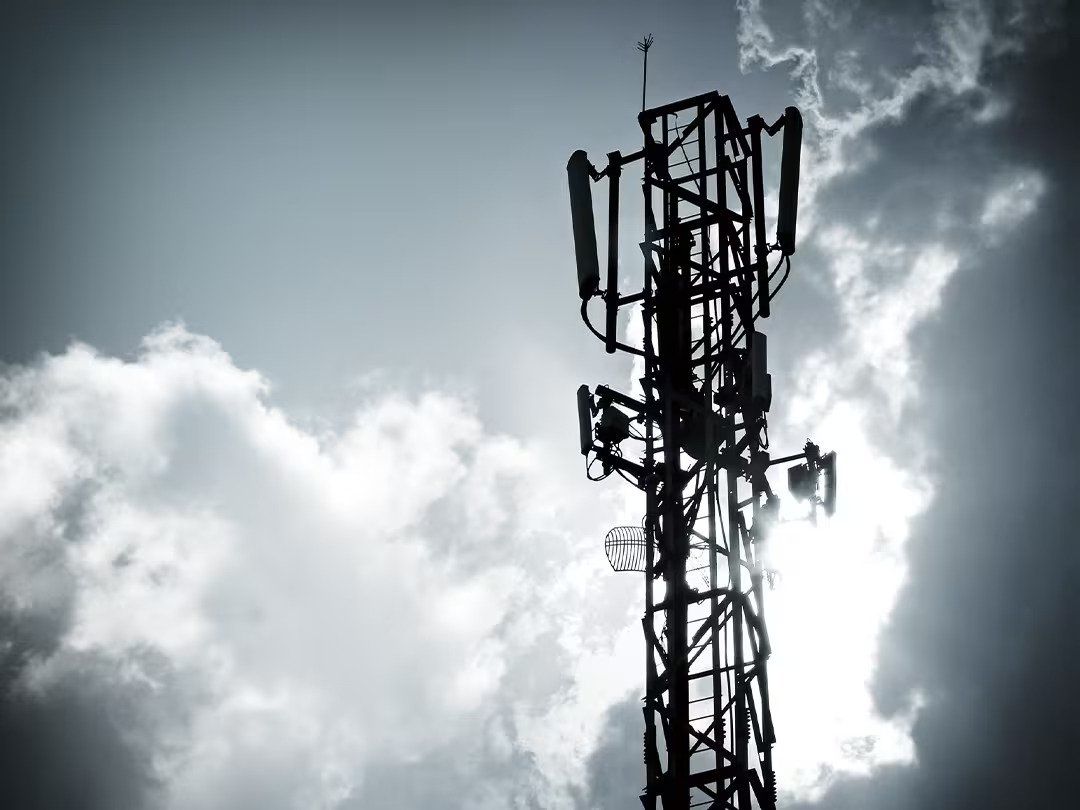 FEATURE5
Radio-controlled and solar-powered: Converting light to energy for accurate timekeeping
AWG-M100RC, GX-56RC
AWG-M100RC: Multiband 6 radio control and Tough Solar solar power
GX-56RC: Tough Solar solar power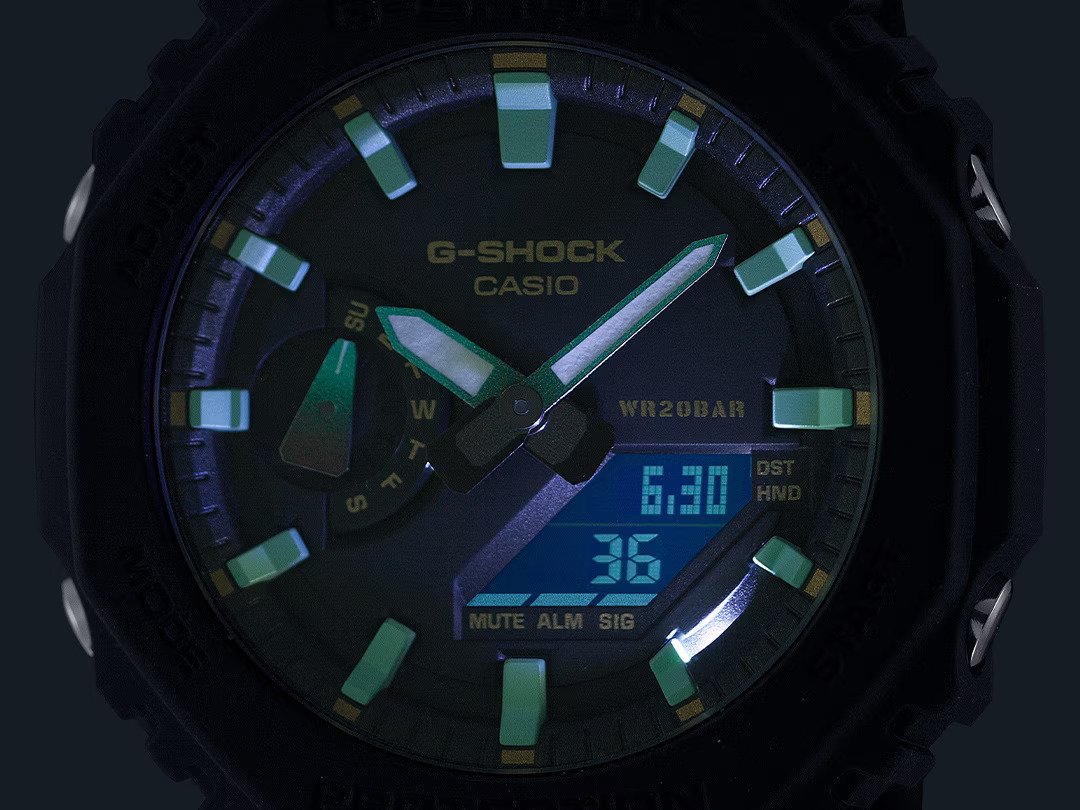 FEATURE6
Super Illuminator (high-brightness LED light) for readability in the dark
GA-2100RC, GA-700RC
GA-2100RC: Dial and LCD (double LED light)
GA-700RC: Dial
SPECIFICATIONS
GA-2100RC
• Shock-resistant structure
• 20-bar water resistance
• Hand shift feature
• World time (48 cities)
• 1/100-second stopwatch
• Countdown timer
• 5 daily alarms
• Double LED light (Super Illuminator)
GA-100RC
• Shock-resistant structure
• ISO 764-compliant magnetic resistance
• 20-bar water resistance
• World time (48 cities)
• 1/1000-second stopwatch
• Countdown timer
• 5 daily alarms
• Auto LED light
GA-700RC
• Shock-resistant structure
• 20-bar water resistance
• Hand shift feature
• World time (48 cities)
• 1/100-second stopwatch
• Countdown timer
• 5 daily alarms
• LED light (Super Illuminator)
AWG-M100RC
• Shock-resistant structure
• 20-bar water resistance
• Solar-powered
• Radio-controlled (Multiband 6)
• Hand shift feature
• World time (48 cities)
• 1/100-second stopwatch
• Countdown timer
• 5 daily alarms
• Full-auto LED light
GX-56RC
• Shock-resistant structure
• Dust-and mud-resistant structure
• 20-bar water resistance
• Solar-powered
• World time (48 cities)
• 1/100-second stopwatch
• Countdown timer
• 5 daily alarms
• Full-auto EL backlight
Article Source: https://gshock.casio.com/my/g-news/new-releases/2023/teal-and-brown-color/