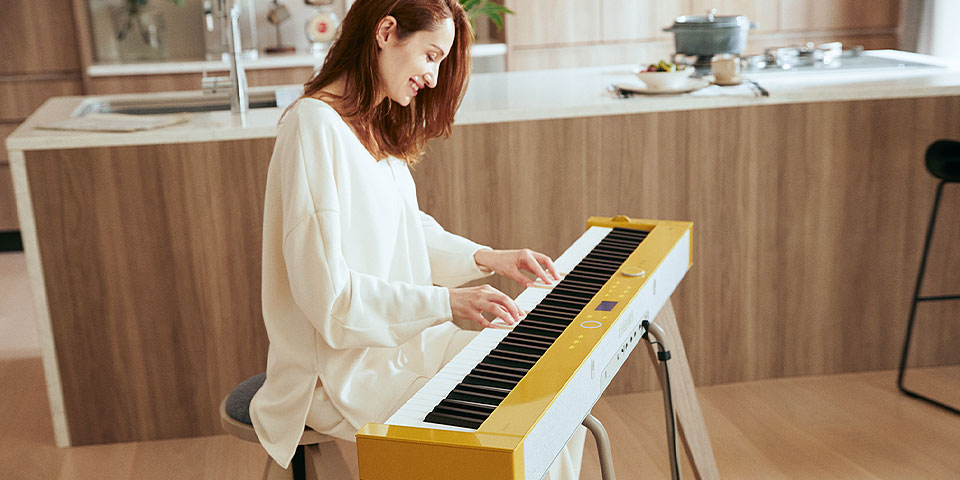 If you are looking for a digital piano, here's 3 reasons to get the Casio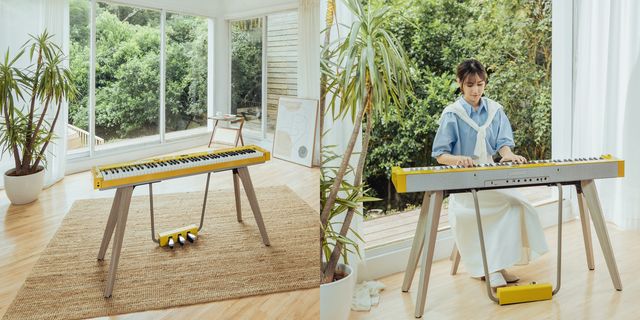 Whether you are a performing musician or a novice piano enthusiast, portable digital pianos are the best choice for your lifestyle. Slim, sleek and elegant, cast aside woes of a musical instrument that sticks out like a sore thumb. The Casio Privia Premium series also promises to spice up your mood with its illumination effect on the console that glows in synch with your music.
Equipped with Bluetooth connectivity and vocal enhancing microphone effects, this digital piano is set to spruce up the Malaysia piano scene. The digital piano's  Wireless MIDI and Audio Adaptor lets you amplify your favourite tunes from your smart phone, tablet or other devices, leveraging its high-tech New Spatial Sound System technology which uses four individually driven full-range speakers housed in a rigid structure of wood/resin composite material. The Casio Privia Premium series has a dedicated Casio Music Space app exclusively for Casio digital piano and keyboard users that acts as a digital musical score, a live performance simulator and an all-round app to enjoy learning and playing music.
Here's 3 reasons why you simply must get the Casio Privia Premium series:
It's a design dream
The Casio Privia Premium series is a musical instrument that can inspire your inner Lang Lang, while fitting perfectly into your home as an aesthetic deco piece, with its slim body and beautifully blended glossy black and wood grain design interior. Apart from the conventional black and white, Casio Privia comes in a chirpy "Harmonious Mustard" to add a pop of colour to your home and offers the versatility of four piano positions of stand mounting, near a wall, in the center of the room or on a table. Its Piano Position feature adjusts the sound elements from each speaker according to these locations. Featuring clean lines and minimalistic design, this piano keyboard will fit seamlessly into any interior style.
It sounds like a grand piano
Equipped with Casio's original Multi-Dimensional Morphing AiR Sound Source with each of the piano keyboard's 88 keys tuned to the state-of-the-art speaker system, you'll think you are playing on a grand piano! The Smart Hybrid Hammer Action Keyboard combines this musical instrument's physical keyboard mechanism with digital control technology for expressive playability and when you combine that with the tactile pedals, it truly mimics the rich, complex resonance of the acoustic grand piano. A Tone Modify function lets you experiment with your Casio piano's 400 built-in tones which include Best Hit pianos, electric pianos, organs and strings to fully experience the digital piano capabilities and inspire your musical journey.
A range of price points to fit your budget
If you're in the market for a digital piano, you know your budget is way lower than the acoustic version of the musical instrument. However, bear in mind that a digital piano does not require periodic maintenance, so don't shy away from spending on a good unit. The Casio Privia Premium series come in a range of prices that commensurate with its features, so you can fix your budget based on what you want. The Casio Privia Premium series is debuting in the Malaysia piano market with an introductory price range starting at RM6,490 for the basic stand-alone unit, while the Casio Privia PX-S7000 series with an integrated wood-grain finish stand, starts at RM13,490 and comes with the high-quality tactile pedals. Optional accessories which include piano stand for PX-S6000 at RM2,090 and piano bag at RM499.

Get it for yourself or a loved one a Casio Privia in this new year 2023 resolution! Head to our online store to order or find out at Casio authorised music centre Privia Piano – Click Here For More Info, or drop us an email for enquiry at enq.emi@marco-groups.com.

Buy now and enjoy a Gift with Purchase – Edifier Bluetooth Headphone HP-W600BT

Offer valid for a limited time only