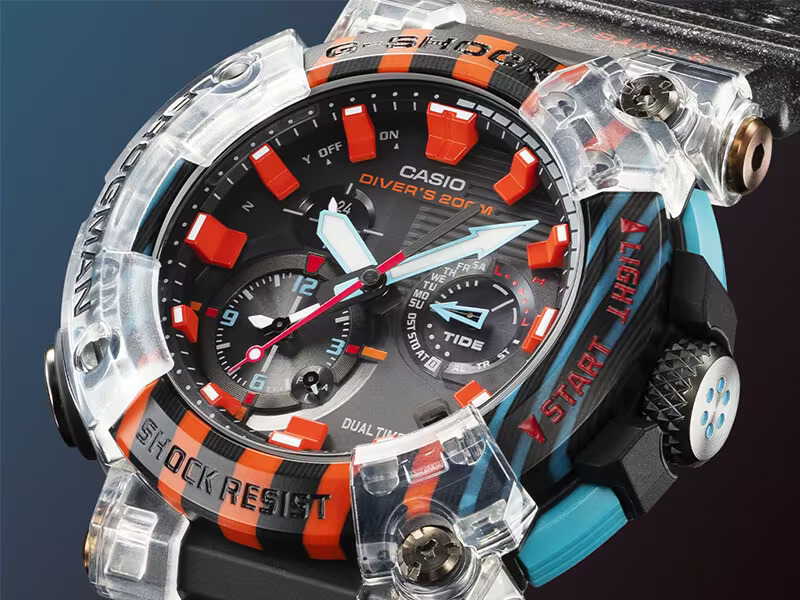 The FROGMAN 30th anniversary model
Multicolour carbon bezel evokes look of uniquely colourful frog.
Line-Up
Available Exclusively Online from 10 Feb 2023.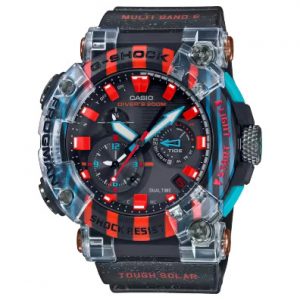 The FROGMAN series, with its iconic frog character, welcomes the second watch created to celebrate the series' 30th anniversary. Inspired by the poison dart frog, a rare species living in the South American Amazon, this model features a multicolour carbon bezel and polarised fluorine band in a FROGMAN design boasting unique colours, materials, and finishes.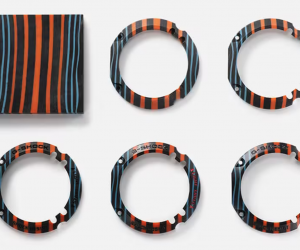 Vivid black, orange, and blue interwoven in organic patterns evoke the beautiful colours of the poison dart frog.* The bezel is cut out from a base material of laminated carbon and glass fibres. No two are exactly alike, reflecting the rarity of this frog species. The multicolour design is highlighted by the use of similar colours on the dial and clear resin for bezel components.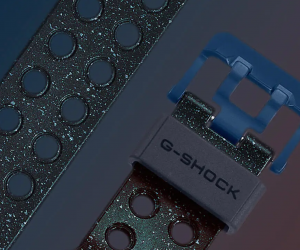 The band is coated with a polarised spray to create the look of the poison dart frog. The polarised paint changes colours depending on the light and angle from which it is viewed. Made from fluoroelastomer, the band is highly stain resistant and able to withstand exposure to humidity.
*THE POISON DART FROG TAKES ITS NAME FROM THE FACT THAT INDIGENOUS PEOPLE OF THE AMAZON APPLIED THE FROG'S VENOM TO THEIR HUNTING ARROWS. THESE FROGS ARE KNOWN FOR THEIR BEAUTIFUL COLOURS AND COLOURFUL PATTERNS, CALLED WARNING COLOURATION AND MEANT TO KEEP ENEMIES AWAY.
*EXACT BEZEL PATTERNS WILL VARY FROM WATCH TO WATCH DUE TO DETAILS OF THE MANUFACTURING PROCESS.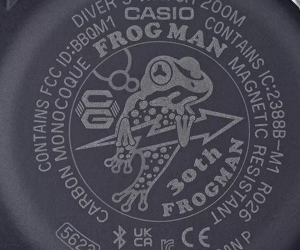 The watch is engraved with the iconic frog character, reimagined for this model as a poison dart frog. This playful design celebrates the 30th anniversary of the FROGMAN line.
Article Source: https://gshock.casio.com/my/g-news/new-releases/2023/frogman-30th-anniversary-model/